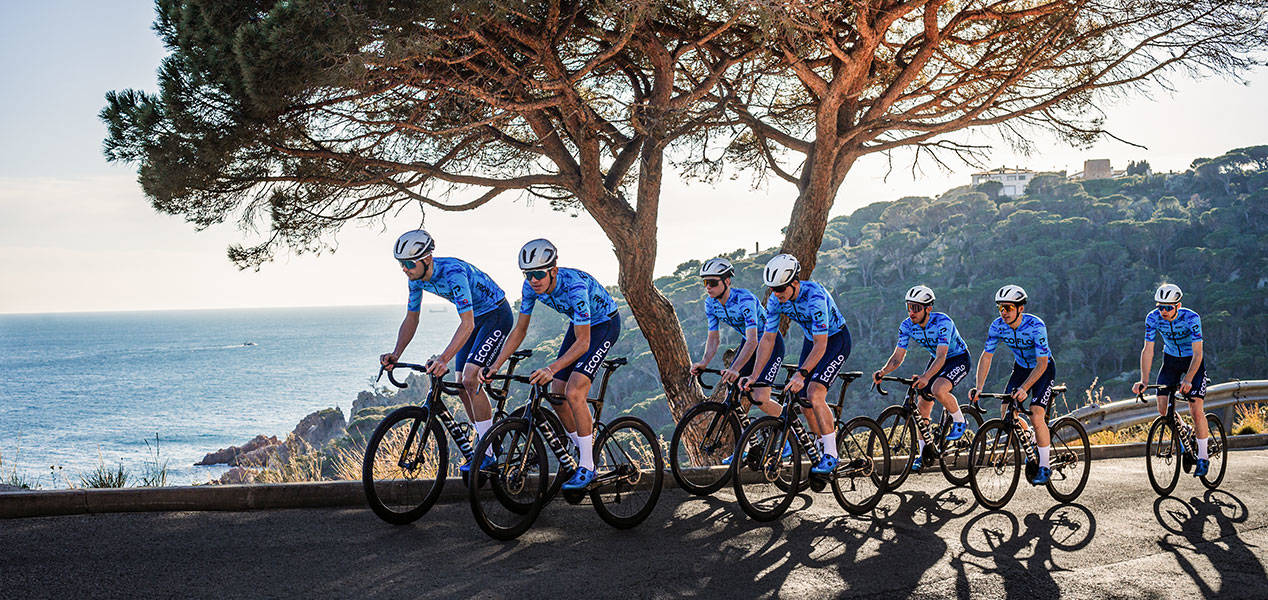 The Premier Tech U23 Cycling Project team started its second season on the European scene with anew jersey showcasing two of Premier Tech's key brands, Ecoflo® and Chronos®.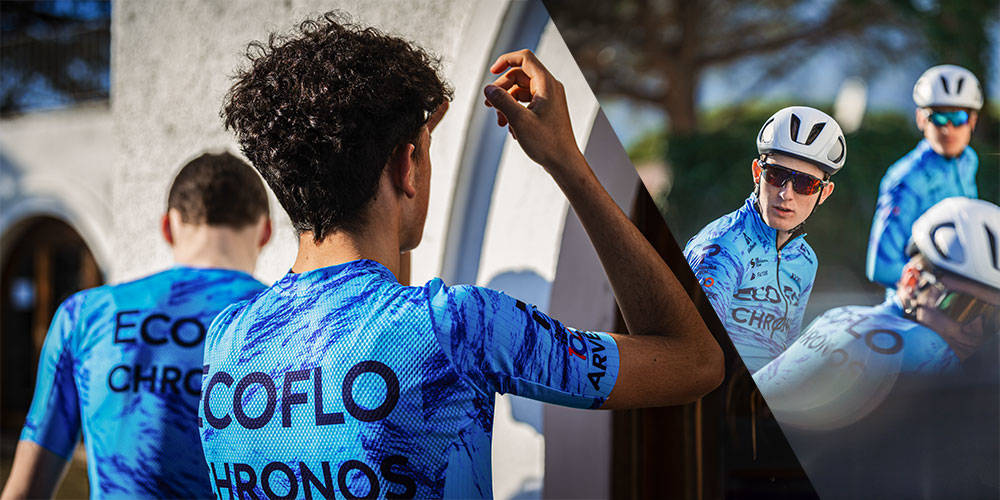 —
A truly international team with a solid Canadian foundation
8 Canadians

•

3 Frenchmen

•

1 Israeli
—
4 wins and 12 medals
The staff and the young athletes, who had to adapt to the high competition level of the various European races, made the most of the 2022 season.
There were some moments of great pride, including two first places at the U23 Canadian Road Cycling Championships — time trial and road race —, two stage wins in the Tour de Guadeloupe and a world scratch champion title for the Canadian Dylan Bibic at the 2022 UCI Track Cycling Word Championships.
With 4 wins and 12 medals in a promising first season filled with learning experiences, the Ecoflo® Chronos® team is set to keep developing young Canadian athletes in 2023.
— With 4 wins and 12 medals in a promising first season filled with learning experiences, the Ecoflo® Chronos® team is set to keep developing young Canadian athletes in 2023. —
This first season strengthened the esprit de corps within the team, both among the athletes and thestaff, fostering a strong relationship of trust and solidarity that guided them to 3 podiums despite many injuries.
In cycling, esprit de corps refers to the cohesion and solidarity within the members of a team. It is a key quality in this sport where riders work together toward common goals.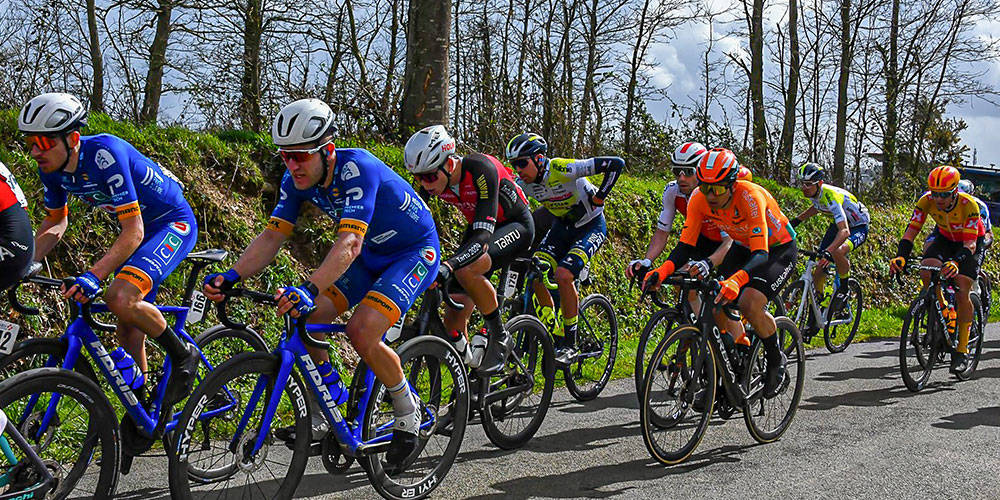 3 wins, 6 podiums
The team started the 2023 season strong with 3 wins and 6 podiums — promising results for these young athletes who can look forward to the next races.
The young athletes have consistently shown strong determination amidst many challenges throughout the season. They delved into their individual and collective strengths, resulting in many local and national wins in France.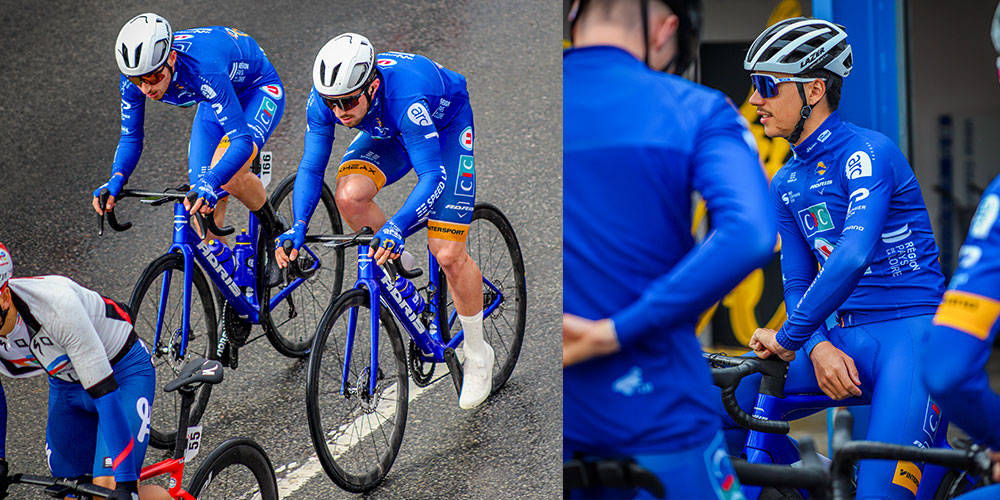 On July 6, 2022, the Australian Simon Clarke makes history for Israel – Premier Tech. He wins the fifth stage of the Tour de France following an intense and tight sprint with the Dutchman Taco van der Hoorn.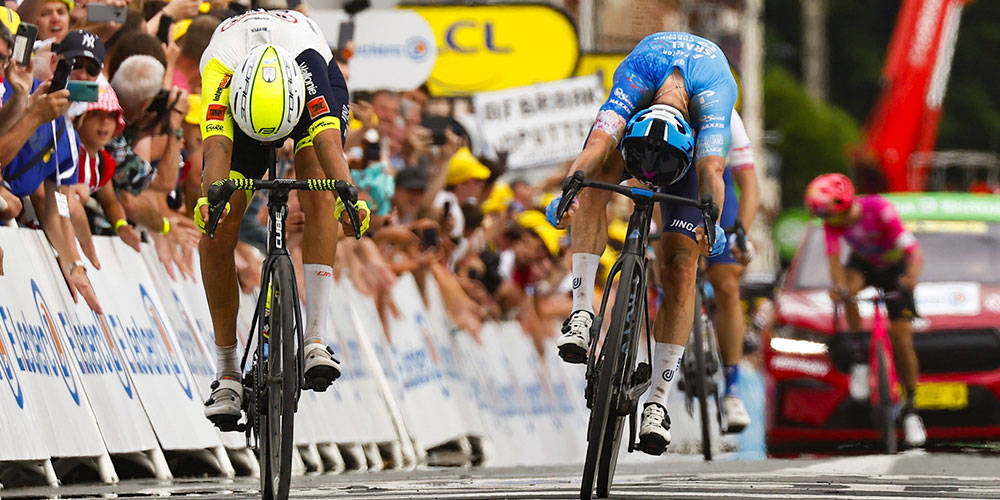 "Israel – Premier Tech came up with an offer as I thought my career was over and I took this chance, meaning anything can happen when you seize the opportunity." — Simon Clarke
"This stage win is a childhood dream finally coming true!"

Simon Clarke
Cyclist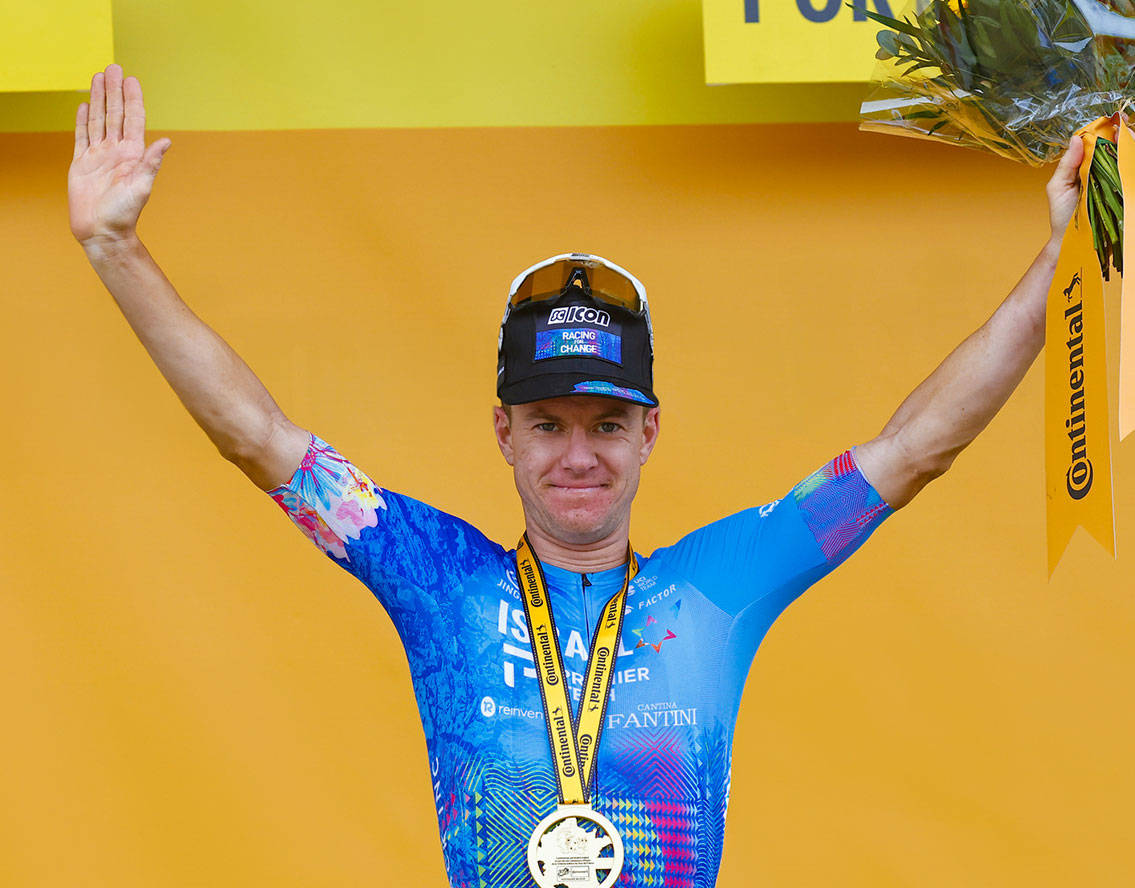 Hugo Houle: first Quebecer to win a Tour de France stage
On July 19, 2022, Hugo Houle makes Canadian cycling history on the French roads between Carcassonne and Foix.
The Québec rider delivers the best performance of his career, winning the 16th stage of the Tour de France — a few days only after finishing third in stage 13.
This victory is even more historic as Hugo shared the podium with another member of Israel – Premier Tech, the Canadian Michael Woods, who came in third.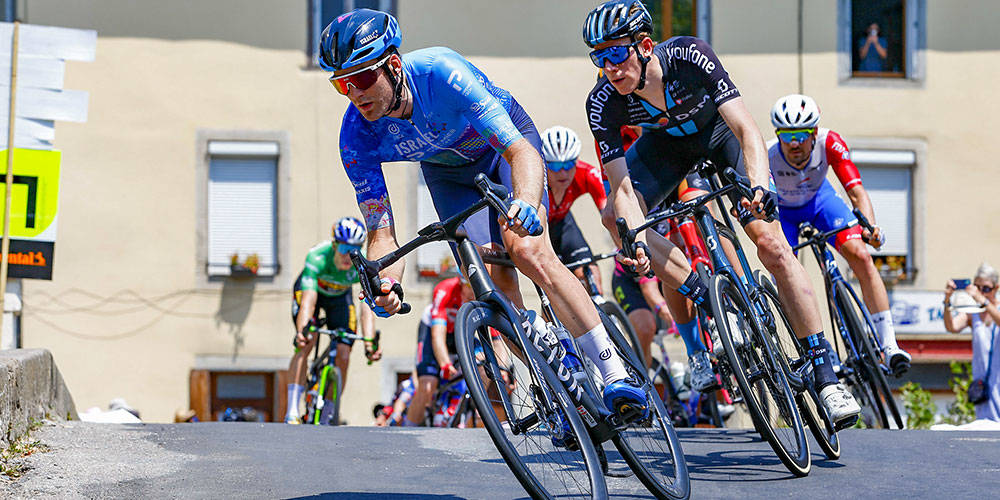 He became the first cyclist from Québec to win a stage of the Tour de France. The Ontarian Steve Bauer, who now acts as the sports director of Israel – Premier Tech, is the only other Canadian to have accomplished this feat 35 years ago.
"There were so many emotions. It was stressful to see him alone at the finish line. That was a perfect race with [Michael] Woods. He won like a real champion. He has a great professional attitude, and he works hard. I have known for years that he could win a stage. I am so proud of him. I told him to enjoy the moment. He deserved it. It is not easy for young Canadian athletes who want to become road cyclists. I hope it will inspire them. Hugo is a great mentor." — Steve Bauer, sports director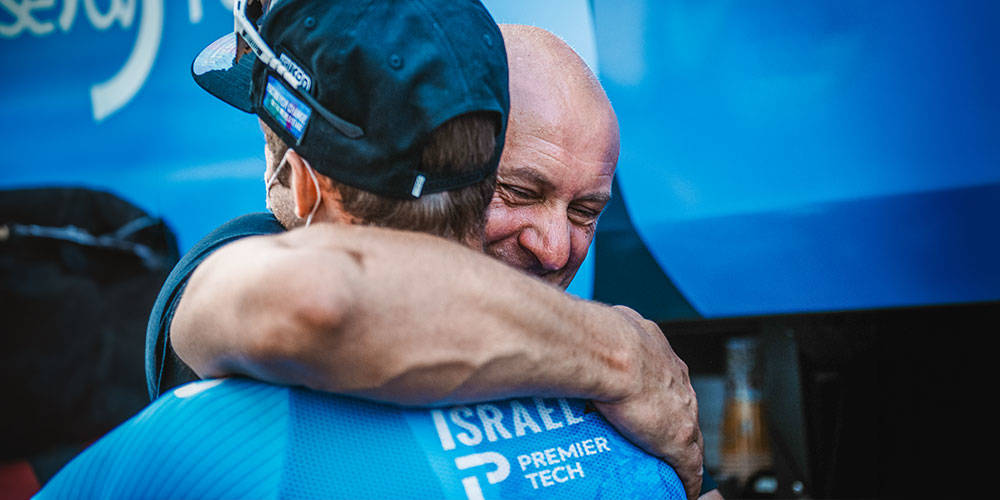 "I was dreaming of this picture — an arm raised in the air, looking at the sky and thinking of my brother. Those were amazing emotions. That is why we make that many sacrifices for so manyyears — to get this moment of joy today."

Hugo Houle
Cyclist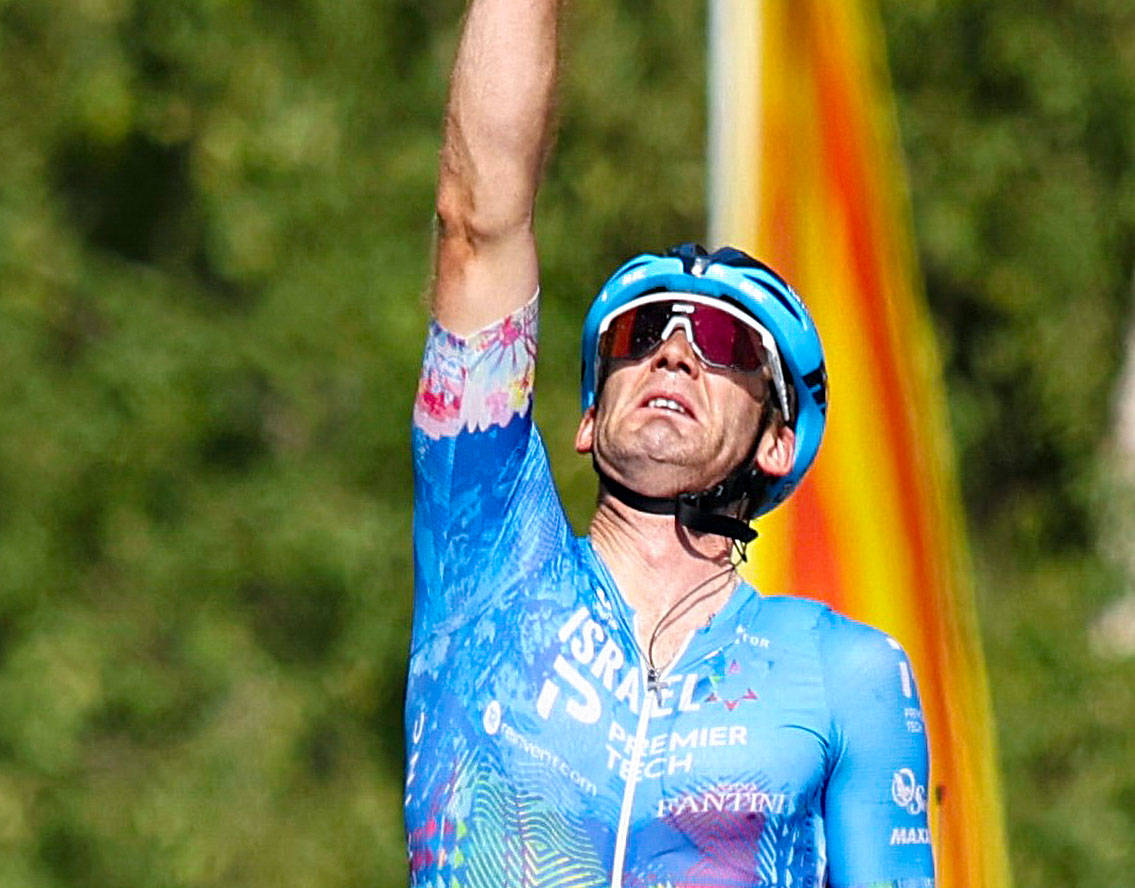 Israel – Premier Tech  team
Visit to the Rivière-du-Loup Campus
Before heading off to the Grands Prix Cyclistes de Québec et de Montréal, the Israel – Premier Tech team stopped by the Premier Tech Headquarters in Rivière-du-Loup to celebrate Simon Clarke and Hugo Houle's historic victories.
The athletes learned more about the company's various expertises and technologies. They also became more familiar with the Premier Tech Culture and Values, witnessing its similarities with cycling.
An autograph and training session
After an autograph session, the athletes got ready for their last training before the Grands Prix Cyclistes. A few team members of the Premier Tech Cycling Club joined them on the road. An opportunity that Britanie Cauchon, member of the Espoirs Premier Tech team, seized with great pleasure.
"It was so great to speak with them, especially Hugo Houle and Guillaume Boivin who are both from Québec. I was able to ask them for advice so I can keep improving my performances."

Britanie Cauchon
Premier Tech Athlete