Premier Tech recognized as most innovative business by Owens Corning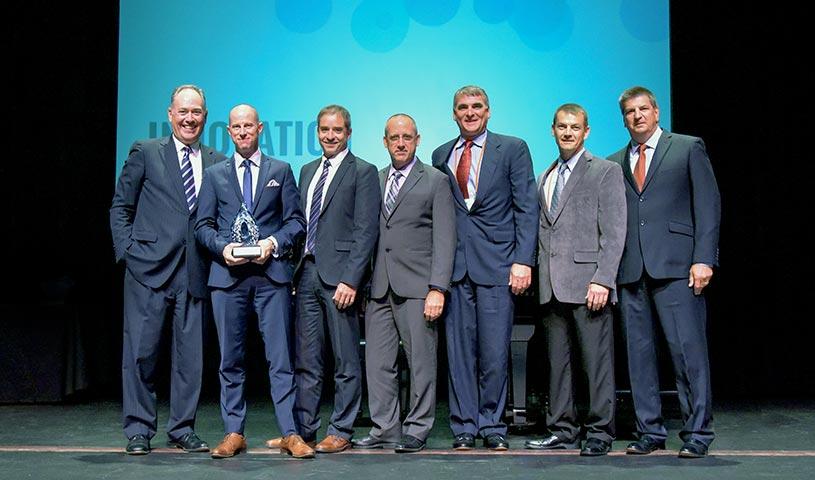 Owens Corning, the global leader in insulation, roofing, and composites, presented Premier Tech with the Innovative Supplier of the Year – 2018 award at its Annual Global Supplier Recognition Day in Toledo, Ohio, on September 26. Received by Premier Tech Chronos, the award recognizes the engineering team's contribution to developing high-performance, scalable automated packaging equipment that will allow Owens Corning to boost overall performance and meet growing workforce challenges.
The win is all the more meaningful to the tech enthusiasts that make up Premier Tech's teams because it recognizes that continuously striving to better understand the business realities their clients face and strengthening the relationships they have built with them is what makes all the difference. Offering concrete solutions to help clients be successful is what Premier Tech is all about.
André Noreau, president of Premier Tech's Industrial Equipment Group, which the Premier Tech Chronos team is part of, is proud of the spotlight and wants to share it with all team members: "This would not have been possible without the outstanding contribution of the members of the Premier Tech Chronos team, who each play a key role in our successes and achievements. It is thanks to them—their sense of creativity, their commitment, and their desire to go above and beyond—that we have earned this recognition."
Premier Tech's Industrial Equipment Group has developed an international reputation for innovative, value-added packaging solutions. The Group is the world's largest supplier of advanced industrial scalable packaging solutions and is the largest robotic integrator in North America's packaging industry. The Industrial Equipment Group has nearly 30 years of market experience and offers the most comprehensive range of packaging and handling systems available.
Backed by a team of more than 1 700 people in 17 countries, Premier Tech's Industrial Equipment Group is driven by innovation and a firm desire to deliver advanced solutions to its clients in some 60 countries.